Indulge in Bad Boys, Billionaires, Bikers, and all the guys you'd never bring home to mama!
When I'm offered the chance to leave New York to live in London for three months, I can't pack my suitcase fast enough.
As soon as I touch down I'm obsessing over red telephone boxes, palaces and all the black cabs.
But my favorite place is the tube. It's wall-to-wall hot British men in suits.
When I'm offered a temporary job working for a barrister, I say, sign me up.
On my first commute into work, it's a total accident when I lose my balance and fall against the most handsome Brit alive. He's as charming as James Bond and as suave as Mr. Darcy. I want to lick tea from his hard abs and listen to his accent all night long.
Turns out Mr. Handsome is my new boss. And his attitude isn't as hot as his gorgeous face, broad shoulders and tight ass. He's brooding, short-tempered and the most arrogant man I've ever met.
As we're fighting, out of nowhere he kisses me. And I'm pretty sure I see fireworks over Big Ben and hear God Save the Queen.
I wasn't looking for the fairytale but I might have found my knight in shining armor. The problem is he lives an ocean away.
A stand-alone, contemporary romance.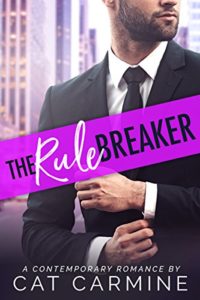 I've always been the quintessential good girl. I don't just follow the rules — I write them. As an advice columnist, I'm always telling people how to not screw up their lives.
So you'd think I'd know better than to bang some random guy in a bar bathroom.
But nope. Apparently not.
Now I've got even bigger problems, though. Because it turns out that wasn't just some random guy. It was Tyler Grant. Rich. Playboy. Devastatingly gorgeous. Oh, and the publisher of my new dating advice book.
All my instincts are telling me to run like hell. It's what I'd advise anyone else to do.
But nope. I've had a taste, and I'm hooked.
Now I'm calling him at ungodly hours and showing up at his house drunk and begging for sex and tacos. In other words, breaking every rule in my own damn book.
Of course, you don't have to be an advice columnist to know a bad boy and a good girl are never going to work out. Someone's going to get their heart broken.
And my guess? It isn't going to be him.
– FREEBIES –
(Please check prices before downloading, prices are subject to change)